The key to creating music games is to vocally express enthusiasm
'Chunithm,' released on July 16th, 2015, is an arcade music game by the creators of 'maimai.'
The game's touch slider device allows a variety of intuitive actions, such as 'tracing' and 'touching,' and its innovative air strings device creates new play sensations by detecting raising and lowering of the hands. Since its launch, 'maimai' has attracted a wide variety of players, ranging from hardcore to casual gamers.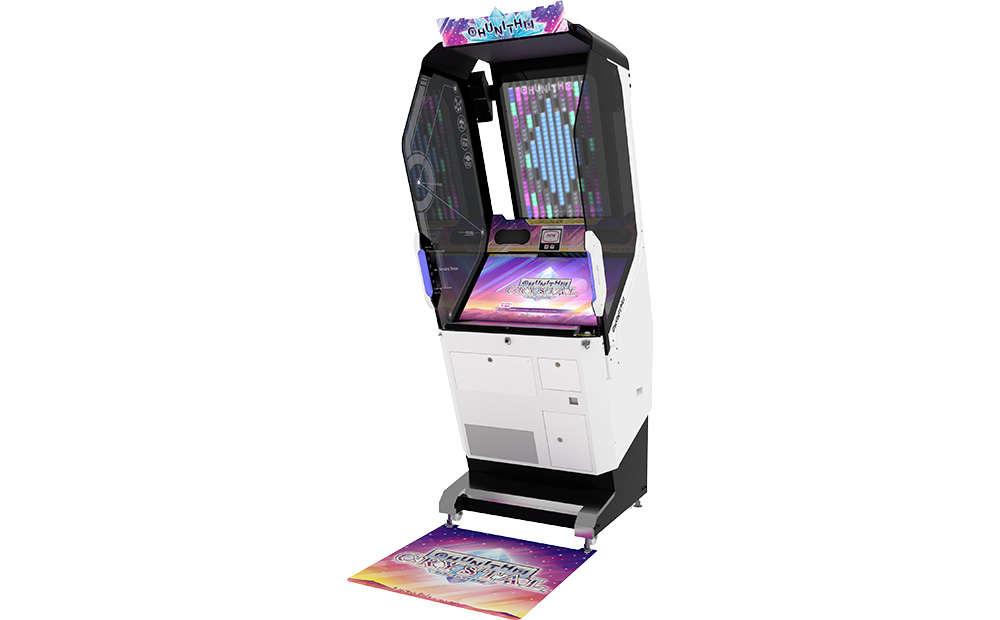 Tell us what inspired you to propose the 'Chunithm' project.
Kohayakawa (Director)
While working on 'maimai,' another arcade music game and the predecessor to 'Chunithm,' a colleague asked if we could make another serious music arcade game. We had also come up with a number of ideas of what sort of music game we wanted to try to make during the development of 'maimai,' which really motivated our staff and myself. I put all of these ideas and inspiration into my proposal for 'Chunithm.'
After that, your team adopted a number of new technologies during the basic research phase for Chunithm. Could you tell us about them?
Shirakawa (Sound Designer)
'Chunithm' uses two interesting devices. The 'ground slider' recognizes motions of the player's hands sliding across the front board. The 'air strings' recognize spacial actions. The air strings device incorporates new technology implemented from 'Chunithm.'
Kohayakawa (Director)
Within SEGA, we periodically hold events to demonstrate new technology from our cabinet and hardware design teams. One was held right after the release of 'maimai,' introducing new spatial sensors. I realized that this technology could be used to complement the traditional 'pushing' action of music games with 'moving in the air' actions, creating a new style of music game, and started experimenting with the new technology. In the end, we didn't use the exact technology which was demonstrated at that event, but this was the hint that allowed us to develop the air strings device.
Nakamura (Cabinet Artist)
For the ground slider, we received a request to express changing notes via the device, so we brainstormed implementation ideas. We came up with and considered a number of concepts, such as installing a touch panel screen, using a projector to project the device, and using physical buttons. We also tried experiments, such as a dimpled surface on the slider face, and built a number of prototypes of elements related to gameplay.
Kohayakawa (Director)
For an ordinary arcade game, you would normally tell the cabinet design team what sort of game you want to make and request that they design devices and a cabinet to suit. However, in the case of music games, the cabinet and devices themselves are integrally linked with the game. So, we ask for the cabinet systems design team to work together with us right from the start.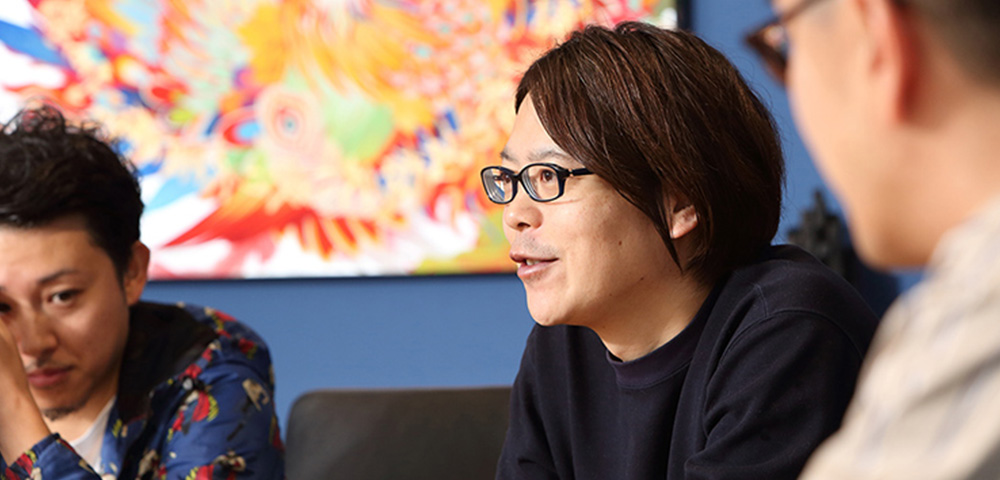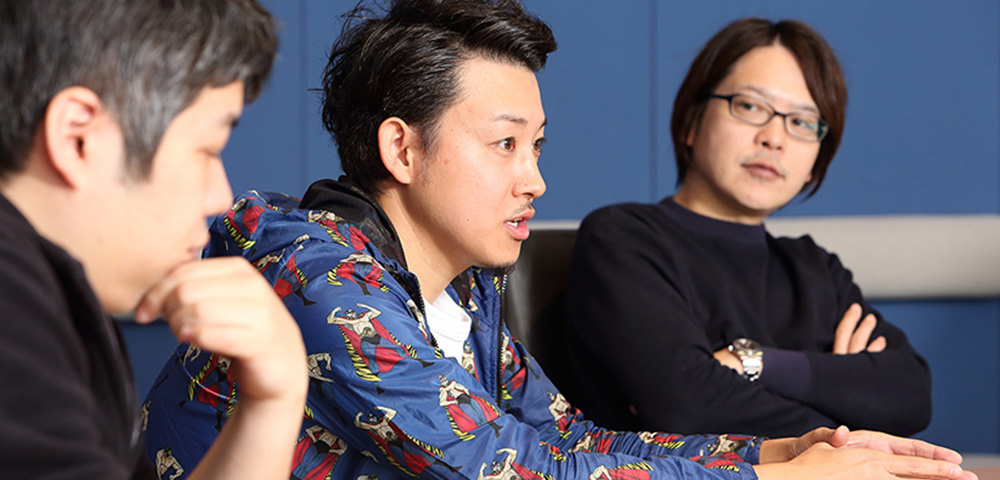 What are the benefits of putting together a team early in the process?
Kohayakawa (Director)
From the production stage, making a game is collaborative work, so the benefit is being able to incorporate necessary elements for the game from the device and cabinet design level. At other companies, in many cases formal approval would be needed before a cabinet design member could join your team.
What was the most challenging part of establishing the 'Chunithm' project and during the actual production?
Kohayakawa (Director)
Well, there certainly were a variety of tough moments, but I would say we worked the hardest trying to bring the new air sensor technology up to the level where it could be used for gameplay.
Shirakawa (Sound Designer)
The concept of 'Chunithm' is a music game that anyone can get into, so it goes without saying that the game had to be comfortable for players of all heights and physiques. First, we gathered data from research institution articles. Only after we had substantiated our examination items could we actually get started. Next, we analyzed body movements of people with different body types, and meticulously studied this data to lead us to the optimal values.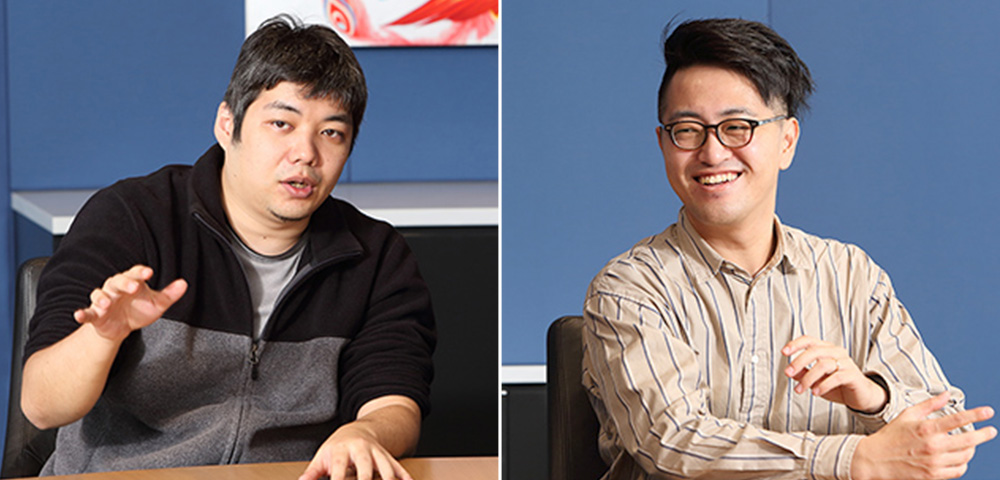 Kohayakawa (Director)
Consider the simple action of raising your hand. The fact is that there are a large variety of movements, and they differ from person to person. For 'Chunithm,' our goal was to be able to detect natural, satisfying movements by humans in time to the music. Giving definition to that vague phrase, 'satisfying movements,' turned out to be quite tough.
Shirakawa (Sound Designer)
Each person has different behavior in terms of the direction of raising their hands and how far they can wave their hands, so we searched for average values. In one word, optimization. Our conclusion was to take sensor readings at the wrist. The cabinet is designed with a lean diagonally towards the player to get better sensor readings.
The cabinet design certainly is unique. Anything interesting to share about it?
Nakamura (Cabinet Artist)
At the time, our team members used to jokingly call it 'the ATM.' The art design concept was to create something easy to like, so our first focus was on how to remove psychological hurdles. For example, when you think of music games, don't you immediately imagine expert players? We realized that it's quite intimidating for a new player to play right next to someone with more experience. That's why the cabinet is designed to enclose the player's upper body.
Kohayakawa (Director)
Our previous work, 'maimai,' was produced with a concept of openness. On the other hand, for our new music game in the same market, we wanted to try creating a private space for the player to enjoy. So, I asked for an enclosed design, with the somewhat paradoxical specification of 'guaranteeing immersion, yet welcoming and approachable for many players.' My team obliged with a wide variety of designs to consider.
Nakamura (Cabinet Artist)
People are likely to recognize a space as private when they are concealed up to around ear level. Through the forward-leaning design, we were able to create the right amount of upper-body concealment for a person in playing position, while also providing an advantageous position for the functionality of the bilateral sensors.
Kohayakawa (Director)
It did turn out to be quite the unique design, but we didn't make it this way just so the machine would stand out. Rather, this design is the result of our pursuit of functionality. It is also very eye-catching, and I would say it turned out as an excellent design.
Were there any other techniques you used to lower psychological hurdles for new players?
Sato (Artist)
We also tweaked the gameplay visuals. The game includes a variety of music tracks, and to prevent incongruity with the music, we deliberately avoided using specifically-themed motifs, such as fantasy or science fiction. We considered a simple design, reminiscent of audio equipment, which would emphasize the sensation of playing a music game. Fans of traditional music games would be right at home, but we were afraid it would alienate new players. It was a challenge to come up with something that would feel like a music game, while avoiding these kind of designs.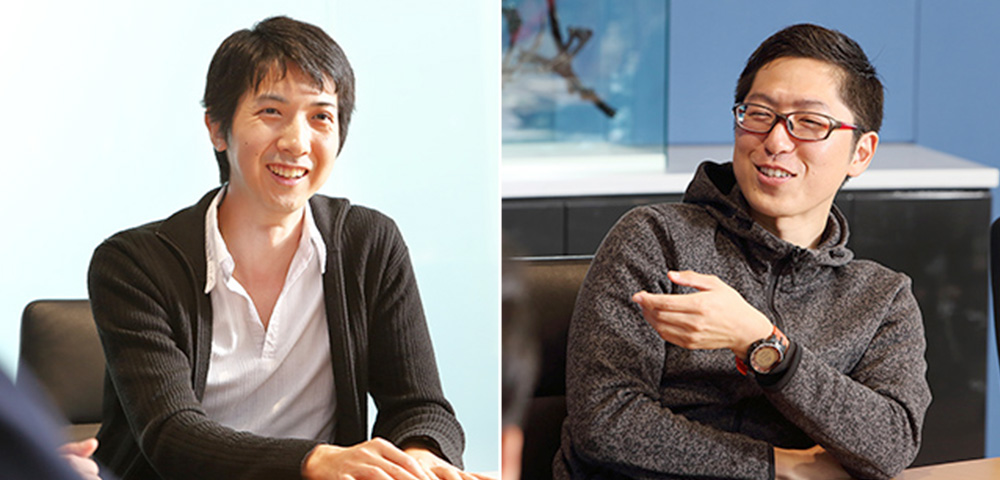 Kohayakawa (Director)
Our main target market was around high school to university age. We researched cultural backgrounds and content that would be familiar to this market, and visualized these findings to become concepts for the game and cabinet graphics. These enjoyable and familiar elements will become an ongoing source of familiarity.
Sato (Artist)
Our current target segment grew up with the iPod, not the Walkman. Until now, many music games on the market have featured motifs like boom-boxes, DJ decks, and the like, but that would be too old-fashioned. To suit our current target segment, we needed a simpler outlook.
So the target segment was high school to university age, but it seems that 'Chunithm' now enjoys a very diverse player base.
Kohayakawa (Director)
Our careful targeting of the hip young market, combined with many long-time music game players on our staff, allowed us to simultaneously capture the hearts of many so-called core players. That was a big factor.
Sato (Artist)
We had quite a clear image of our target segment. For example, for the case of children who enjoyed Niconico Video, which was popular at the time, we divided them into early, middle, and late periods, and looked for ways to appeal the ones into music from each period. We also considered what to make for children who watched anime. We arranged many images of our target users and were thorough in approaching each. I think that this helped us achieve such a broad player base.
I imagine that the broad player base must have been very challenging for sound production?
Anayama (Sound Designer)
Most sound designers don't actually listen to the type of music that young children enjoy, so we definitely had a few moments of bewilderment! (*Laughter*) Fortunately, we had detailed data for each target, and clear direction of which songs suited which users, so we were able to keep moving forward without worrying what sort of songs to create.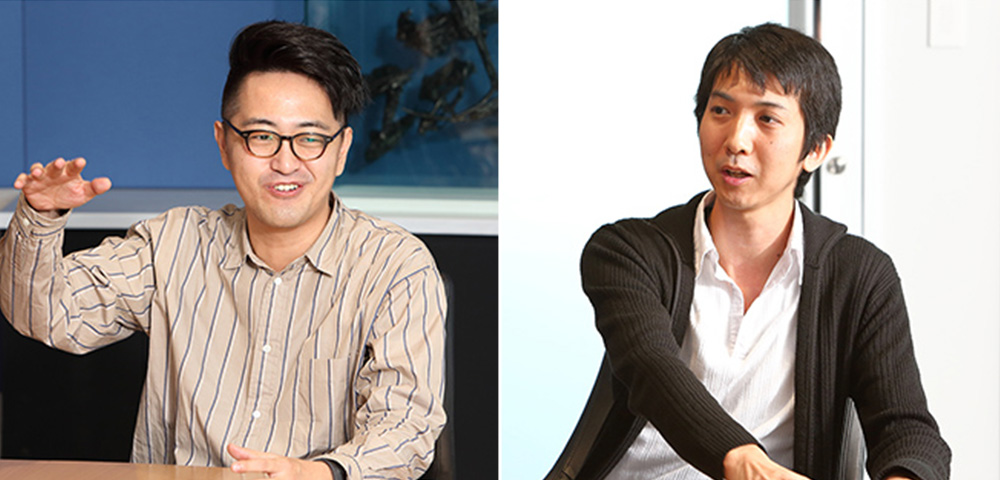 Kohayakawa (Director)
I'm sure there were plenty of pitfalls around creating the sound for a game which included such a wide variety of music genres. But Anayama's sound design really kept everything in harmony.
Anayama (Sound Designer)
Sound is often designed as a complement, to add to the impression generated by a game's visuals. In this case, the visual imagery was also very simple, so I made sure that the sound fit and supported the visuals, without being too flashy.
Could you share any memorable experiences from location testing?
Nakamura (Cabinet Artist)
Before location testing, we first make a prototype of the cabinet, and unveil it to the software team. After the software is loaded, we can start the evaluation. As soon as we brought in the 'Chunithm' cabinet, everyone gathered around in anticipation. When we booted the machine, there were cheers of joy from the team. That moment instantly melted away the fatigue of many months of hard work.
Shirakawa (Sound Designer)
That was my first time to experience anything like that since joining SEGA. When the cabinet and the game came together, there was an even greater surge of excitement. The enthusiasm shared among the group of developers gave me even more anticipation for the location test.
Sato (Artist)
Until then, we had only been working on a bare-bones cabinet with exposed struts and speakers. As an artist, I was extremely happy to finally see the completed unit and relieved that we had actually completed it!
Kasuya (Programmer)
At the first location test, customers had already formed a long line early in the morning, well before the arcade opened. When the doors opened at 10:00, we started giving out numbered tickets, which ran out by 10:30. Before then, it was almost unheard of for people to line up like that for a music game location test. After the release of 'Chunithm,' our location tests always had long lines to get in.
Kohayakawa (Director)
I can still remember how the players who came to the location test seemed shocked from their very first play. One commented, "Now this is fun! They've made an amazing music game!" Ordinarily, reactions to music game location tests were not so positive. You could say that 'Chunithm' changed expectations from that point onward.
Nakamura (Cabinet Artist)
I recall one player running their hands over the slider and commenting how satisfying the device felt to use. It meant a lot to see players enjoying the game so intuitively.
Kohayakawa (Director)
It's easy enough to use the word 'intuitive,' but much harder to make it happen. To reach 'intuitive,' you first have to work to find and eliminate any sort of noise that interferes with intuition. I believe that it takes the combined efforts of cabinet design, mechanical design, art, software, and sound teams to create a single intuitive experience. That is the biggest strength of 'Chunithm,' and what makes it unique.
Is there anything memorable to mention after release?
Kohayakawa (Director)
Well, I can certainly remember what a big success it was. Even after the location tests, long lines of dozens of people were waiting to play all over Japan. I heard that during that summer, there were so many players that it was difficult to get many turns in.
Nakamura (Cabinet Artist)
The compact cabinet was a good fit, even for smaller businesses. One arcade had ten 'Chunithm' machines lined up, all with customers playing - what a sight! Being able to visit an arcade and see crowds of eager players enjoying your machines is one of the real joys of arcade game production.
Sato (Artist)
We incorporated a variety of mechanisms to encourage players to continue the game. Many features of 'Chunithm,' such as its beginner-friendly design, map system, and anime song collaborations, have gone on to be included in future music games.
What do you focus on from an ops perspective?
Sato (Artist)
For music games, we always completely revamp the UI once a year. In fact, during each major version upgrade, we rework the targets from scratch. This gives long-time players a new and fresh experience, and encourages interest among new players. We aim to provide content to keep up with the times.
Kohayakawa (Director)
Through our operation efforts, we set out to continue creating new things, year after year. Once a game reaches the operations stage, it's difficult to devote efforts into continuing to create something from nothing, but I believe this is the key to maintaining long-term motivation for the operations side.
Nakamura (Cabinet Artist)
For cabinet design, operations is not as taxing as the initial production, but major updates offer opportunities to try new materials and printing methods, so I'm always proactive about making proposals. It's also a good opportunity for junior employees to learn and grow.
Sato (Artist)
Operations is very worthwhile for the chances it creates to try new things. Everyone is committed to making the product the best it can be, so the music game team inevitably becomes totally absorbed in this work, which makes us unique.
The high school girl band, 'Irodorimidori,' which was created via 'Chunithm,' has gone on to develop a variety of media mixes. Any remarks?
Sato (Artist)
The band started as a single level on 'Chunithm.' Our initial concept was to develop a strong story to intertwine with the emotional arcs of the songs. One of our staff members, who has always been an enthusiast of dojin (amateur manga, game, and music production), is never short on passion to keep the band moving forward! (*Laughter*)
Kohayakawa (Director)
I believe that if we create something that we truly think is fun, that connection will naturally be felt by the users. I go to a number of live performances for work, and I doubt that there are other projects where fans participate so passionately and get really worked up for live events.
Sato (Artist)
In principle, we write songs suited for a music game, but we also have to consider timings for users to shout out or sing along during live performances. It really takes user participation for a live performance to be complete. We took surveys at live venues, and interestingly, about half of the participants remarked that while they no longer play 'Chunithm,' they still actively follow 'Irodorimidori.'
Kohayakawa (Director)
You could say that this style of creating content from a player-centric point of view is a specialty of our team. As far as my position goes, I want to stay focused on maintaining an environment where my staff can actively create things which they themselves truly like.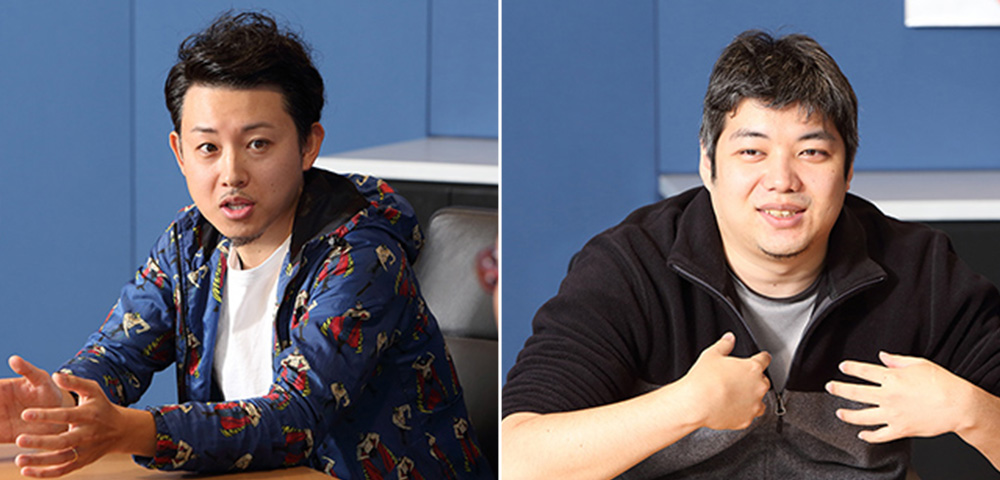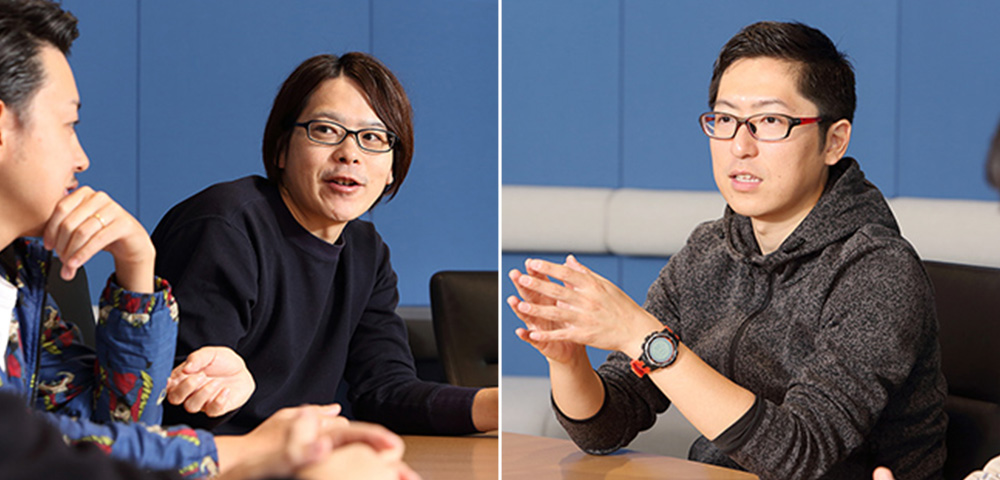 Are there aspects where new employees can take an active part in?
Kohayakawa (Director)
There is the matter of how much experience and ability the employees originally have, but in the case of one recent new employee, I had the employee create concepts for character stories and songs, and follow through with placing requests. If you can come up with interesting ideas, age and experience don't matter. We take more of a 'try it and see' approach.
Nakamura (Cabinet Artist)
We're definitely a world apart from the seniority systems which once dominated the industry. Throughout the office, you won't hear many orders like 'Do this, do that.' On the other hand, you're more likely to hear questions like 'What do you want to do?' or advice like 'I know you have a lot of skill in this area, so why don't you try this?' Of course, there are cases where a particular design orientation is required. But, it takes the unique personalities and qualities that make us human to spark interest. I think it's important to consider how to create and maintain individuality and motivation.
Sato (Artist)
The target market we were originally trying to reach is the younger generation, so it only makes sense that we pay attention to the needs and likes of our younger new employees. We will get older and older, so it's important to actively keep in touch with younger points of view, or our games will fall behind the times.
Kohayakawa (Director)
There are many ways that an employee can use his or her enthusiasm and skills to contribute, but at the bare minimum, you need to start by putting what you want to do into words. In fact, that may be all it takes. If you can put your goal into words, you are surrounded by colleagues who can help you reach them.
Last question. What do you think is the most important thing when it comes to making a music game?
Kasuya (Programmer)
Music games are fundamentally extremely simple - perform actions in time with music. This genre presents challenges in that it's quite difficult for players to express exactly what they enjoyed about playing the game. The game is nothing more than actions and effects which take place, but behind these lay a great many factors such as music quality, satisfying combinations of actions, and cabinet environment. These factors come together to create interest in a music game.
Kohayakawa (Director)
I think that when making a music game, it's important to understand the underlying factors that Kasuya mentioned, in depth. Instead of being constrained to actions and effects, we must understand the scope of the elements that create the games interest, to the extent that we can consider and express them. If you can do that, you can rebuild a game, take it apart, or create something new. And, never forget that it takes team members in a variety of positions to create a music game. Ultimately, if we can understand these areas, the music game industry will have a bright future filled with great games.
Sato (Artist)
Playability is important, but it's most important to understand music game players and music game creators. In other words, the most important thing is to understand people.
Shirakawa (Sound Designer)
I would imagine that many people assume that technology is the most essential thing to succeed in the music game industry. But to me, it's even more important to be passionate about what SEGA will accomplish, and how SEGA wants to bring joy to the players of these games. That passion is absolutely necessary.
Kohayakawa (Director)
SEGA's work environment provides experience and opportunities to grow. Instead of 'What can you do?' the company is interested to know 'What do you want to do?' In this way, SEGA challenged me to grow as well. Even if you don't know specifically what you want to do, as long as you have the passion to bring joy to others, there must be something that only you can accomplish. Our team's environment will turn your passion into a desire to create great games. We look forward to meeting all kinds of new people!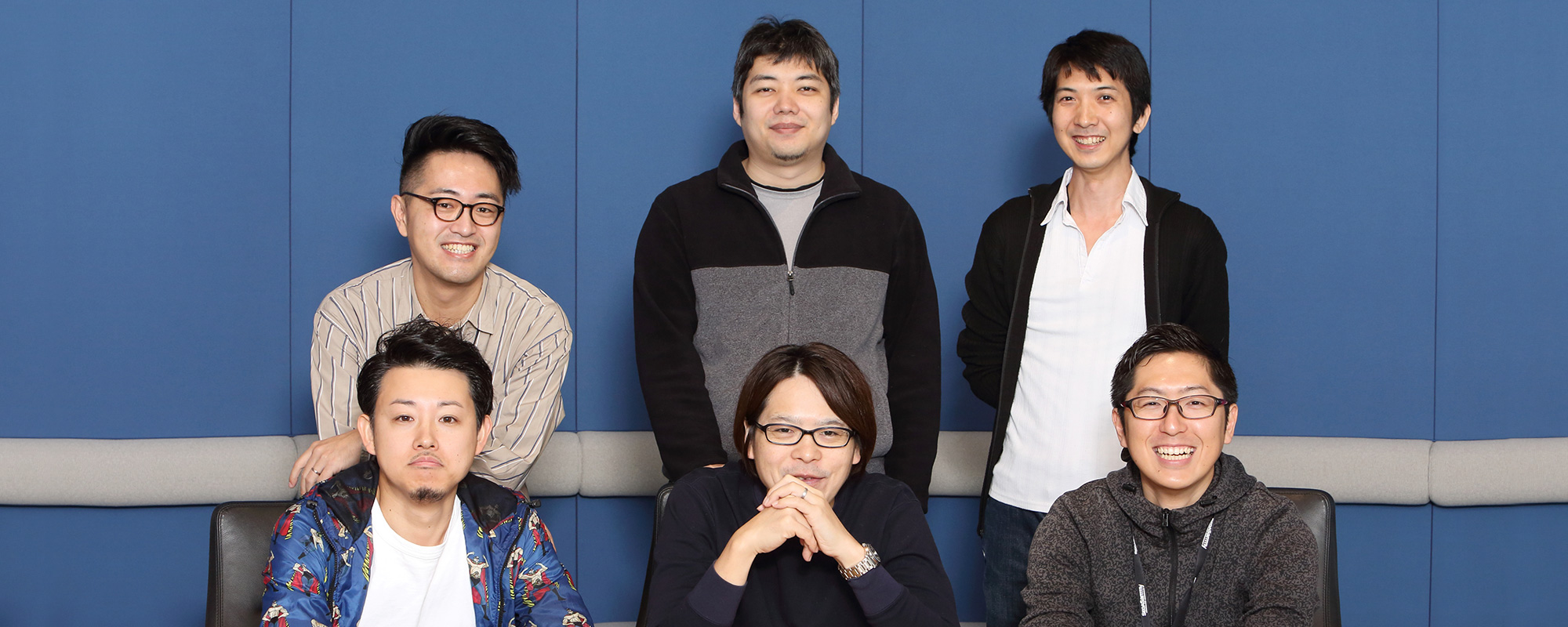 EPISODE
The Game Making Process