President & COO of SEGA CORPORATION

Yukio Sugino
We will reconsolidate as a "New SEGA."
In 2015, in order to adapt to the market environment and optimize each of our businesses, we split the company into SEGA Games", which specialized in console games, and "SEGA Interactive", which specialized in arcade games. As a result, we improved the effectiveness of management of each and were able to achieve a certain level of performance.
However, the market environment has changed very rapidly in recent years. In order for us to achieve growth while matching pace with the rapid progress of digital transformation, we must be capable of competing in the global market unfettered by the boundaries of national borders and platforms. With this in mind, we decided to start again as a new company - "SEGA" - in order to reconsolidate the collective strength of "All SEGA" and take on the global market while also retaining and utilizing what we learnt from the company's previous split structure. Of course, we do not intend to simply return to the company we were previously. Rather, I believe that we will be able to demonstrate greater strength than ever before by reassessing the strengths cultivated by each and every one of our employees.
The growing gaming market --- Global & Japanese markets
The game market is expected to continue on its current trajectory of massive growth. With the spread of smartphones around the world and economic development in emerging countries in Africa, as well as India and China, the number of people who play games has now grown to a huge market of 2 billion worldwide. In the future, global tech companies represented by GAFA (Google, Amazon, Facebook, Apple) will enter this market in force. In addition, it is certain that the breadth of services will greatly expand as technological advances such as cloud gaming and the launch of 5G services gain traction. We must focus not only on popular established brands from overseas studios such as the the "Total War" series and the "Football Manager" series, but also on new global content.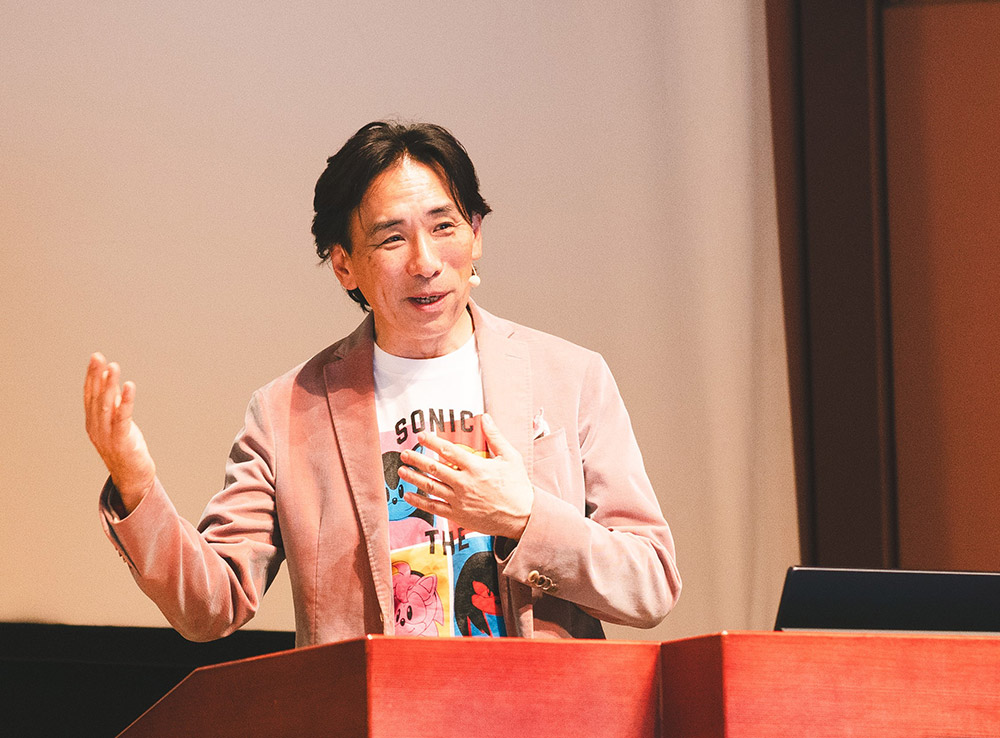 Many of the most popular game franchises we have produced so far, including "Yakuza" and "Persona", have enjoyed great popularity not only in Japan but also among fans around the world who love Japanese pop culture, and sales have continued to grow recently. This is the result of building a fan base over a long period of time through careful and detailed localization with the intent to faithfully and accurately convey the worlds and stories of our titles to the global market without compromise. This is one of our greatest strengths as we undertake even greater challenges in the global market.
In the domestic game market, we must seek to provide more than just new IPs and platforms. Users' game experiences will continue to change, as they not only play games, they also enjoy watching them as in e-sports, and as the fan base expands the market has grown to a scale of 2 trillion yen in the past 10 years. There have long been voices predicting the decline of the Japanese economy due to the falling birthrate and aging population, and there are few markets growing to this extent. At first glance, the domestic arcade game market appears to be in a downward trend. In fact, it has continued to grow for the fourth consecutive year, and the expansion of prize games such as "claw crane" games, as well as expansion of the merchandising business have great potential as outlets for IP development.
We will continue to take on new challenges without fear of failure and deliver exciting experiences through entertainment content
We have created many entertainment franchises that have come to symbolize their respective eras. We will seriously pursue what users want and develop what we find interesting without fear of failure. Of course, sometimes things don't go as expected, but here at SEGA we have a culture of taking on challenges without fear of failure.
The new "SEGA" aims to create new exciting experiences, following up on our existing franchises by drawing on the full potential of the group to create new IP.
If you share the ideals of our goal to "providing exciting experiences to everyone around the world through entertainment," then by all means, I hope that your young and fresh sensibilities will allow you to take on new challenges without fear of failure.